Commercial and Residential Asbestos Removal Professionnals
Removal of vermiculite (zonolite) and asbestos contaminated materials
Commercial Asbestos and Vermiculite Removal.
Contact us for evaluation and quotation.
We offer a complete solution for institutionnal and commercial asbestos removal.
Whether your asbestos dismantling project is small or large our team has the experience and appropriate training to help you.
Our complete and selective asbestos removal work is offered to individuals and general contractors.
Residential Asbestos and Vermiculite Removal.
Contact us for evaluation and quotation.
It is common to find vermiculite containing asbestos in the attic of the houses built before 1985. Although the vermiculite is not dangerous as long as it is not moved, it may be necessary to withdraw it in certain circumstances. Before undertaking any renovation or expansion of your home, or before selling, call us for the removal of vermiculite and re-insulation of your roof using blown wool (cellulose).
In order to simplify the task and prevent dangerous contamination of our customers, we take care all the work and other procedures when proceeding with vermiculite removal, particularly when a sales offer is made on a home and the decontamination of asbestos in the attic is conditional on the sale. From the rental of the container to the final air testing by an outside firm following the removal work, we execute all steps leading to complete safe vermiculite removal.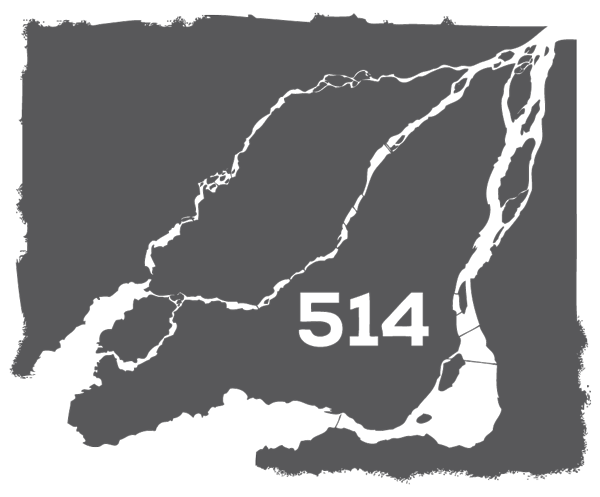 Demolition and removal of walls, interior ceiling and wall plaster contaminated with asbestos.
Almost all the plasters walls in Montreal contains asbestos at a certain level. The first step before beginning demolition work would be to sample the materials to determine whether or not it is contaminated with asbestos. After laboratory analysis, give us the painstaking task of demolishing the contaminated plaster safely and professionally. Whether you want to change the internal structure of your building or strip the outside walls to isolate them, these are good reasons to proceed safely and remove asbestos without contaminating the rest of the house.
The origin of the vermiculite problems.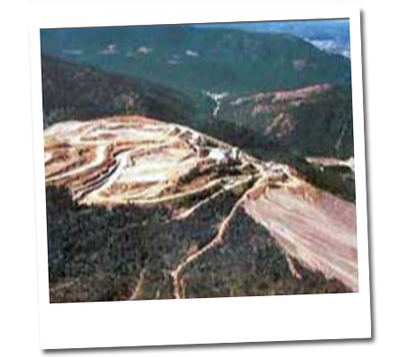 The history of asbestos in vermiculite in Canada.
Some vermiculite deposits may cross a hydrous silicate of fibrous nature named tremolite. Tremolite turns out to be the most dangerous form of amphibole asbestos. It suffices that the vermiculite ore is impregnated (in very small quantities, usually) to present a health risk.
This is what happened on the site of Libby, the dust from the extracted ore contaminated hundreds of workers and amount of buildings in the United States, in Canada (and elsewhere) from 1919 to 1990. The closure of the site, ordered by the US Environmental Protection Agency (EPA) who has then undertaken to clean the site over the years. Does this mean that the vermiculite is dangerous? Primarily not, because the offending insulator (named Zonolite in Canada) would be unavailable since 1995. A watch is however recommended and, in France, as indicated by a specialist asbestos at INRS (Michèle Guimont ), "the distributors are required to verify the analysis reports to ensure that they do not contain vermiculite asbestos" …
Asbestos in Quebec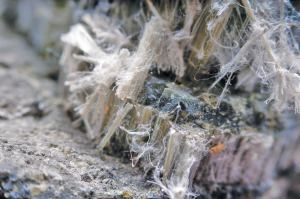 The history of asbestos industry spans three centuries. This mineral called ' white gold ' was discovered in Quebec in the late 19th century. The first mine was opened in 1879 in the name of Murphy mine in Thetford Mines. Then another mine in Asbestos was discovered and became operable in 1881.
The 21st century began a lot of controversy in Quebec about the asbestos industry production and exportation. While countries prohibit this mineral in their territory, Quebec continues to defend it. Indeed, June 22, 2011, Canada imposed its veto so that asbestos is not included in the list of dangerous goods listed…
Asbestos diseases
Exposure to asbestos dust has, in most cases, a high health risk to develop asbestos diseases. These dusts are so microscopic fibers that make it across all respiratory defense barriers and lodged in the alveoli of the lungs, causing the development of two types of diseases…
View the latest standards and recommendations for Quebec asbestos:
Frequently asked questions about asbestos removal services
How can I know if the vermiculite in my attic contains asbestos or not, and do you offer analysis services?
80% vermiculite contains asbestos. It is important to determine whether or not your vermiculite contains asbestos. FL Demolition is not an analysis company but we can refer you to a competent firm to assist you.
Under what circumstances is it necessary to withdraw vermiculite ?
To be honest with you, asbestos is harmless as long as it is not manipulated. If it is in your attic and it is never disturbed, you run no risk. It is strongly recommended not to remove it yourself. This could damage your health and contaminate your entire house to asbestos. Let our experience and professionalism manage your vermiculite safely.
Removing vermiculite is necessary before undertaking expansion work on your house, your attic or undertaking renovation before selling your property. Building inspector for a future buyer will find out that your attic contains vermiculite, and you will almost certanly be forced to have it removed to meet the expectations of buyers. Contact us or give your real estate agent our number to avoid future problems.
How do you proceed when taking out vermiculite?
We take care of everything, taking your asbestos removal problem from cradle to grave to facilitate the process. We provide pricing over the phone after a few simple questions, we then come over to your house to verify the work site in person. Once we have the green light, we take care of all the procedures to take out every traces of asbestos. We take care of the removal of asbestos, take away all the contaminated material from your property and clean up the working site. An air test is then necessary and we replace the insulation material with blown whool. FL Demolition will also provide you a certification of our work.
As a business, what are the priorities when taking out asbestos contaminated materials?
1. That no trace of asbestos infiltrates your house.
2. That no trace of asbestos be liberated in the atmosphere.
3. The safety and health of our employees.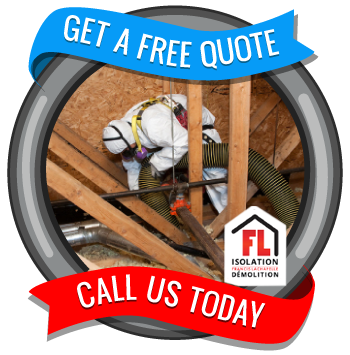 450-951-3255
We come to evaluate your work for free.